A True Digital Transformation: How Reckitt Achieved Research Efficiency at Scale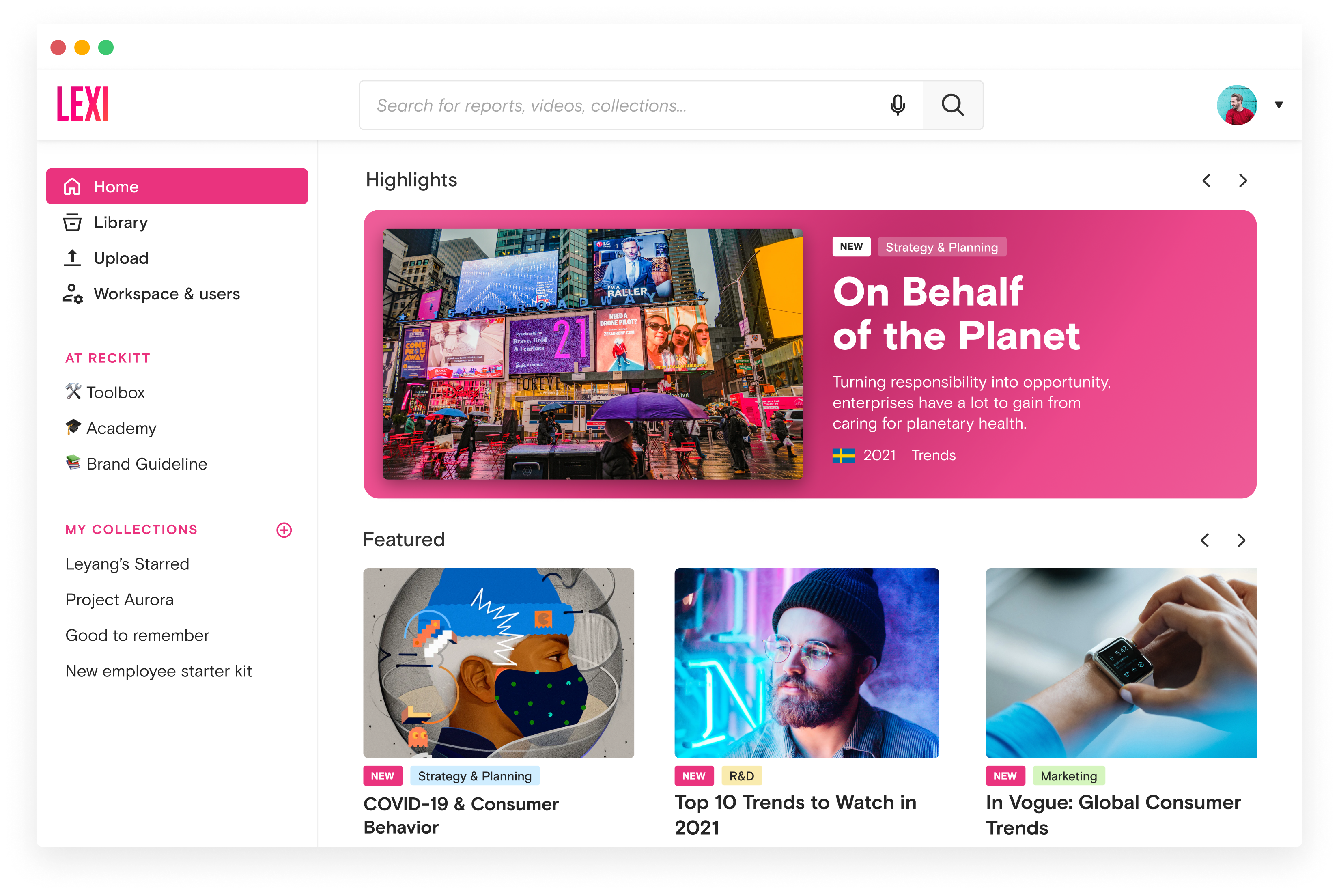 Home to the world's most loved and trusted hygiene, health and nutrition brands, Reckitt employs more than 40,000 people all united by one purpose: a cleaner, healthier world.
To achieve this, Reckitt places people at the heart of everything it does.
Yet, providing enterprise-wide access to consumer knowledge is no easy task. Historically Reckitt employees stored their insights in local SharePoint and OneDrive folders, with additional research stored in platforms from external partners. This prevented the organization from accessing and reusing its Consumer Knowledge seamlessly.
"The data was very scattered," says Sandra Berg, Global Insights and Analytics Manager at Reckitt. "We identified more than 5,500 folders containing insights and analytics information. Often these environments were closed groups, which created knowledge silos and resulted in research duplication."
The Data Cleanup
"We wanted to create one point of entry for the business and that's when we found Stravito."
Natalie Delgado, Global Consumer Insights & Analytics Director at Reckitt, adds,
"Reckitt's vision is to democratize data and analytics in a way where we capitalize on the efficiencies of research spend, whilst working in a more collaborative way."
Stravito stood out to Reckitt for a number of reasons.
Sandra comments, "Stravito's AI pinpoints relevant content in paragraphs, sentences, and slides of reports or information from other connected platforms. This precision significantly decreases the amount of time and effort needed to identify and reuse consumer learnings, and this was a deciding factor for us when choosing a Knowledge Management Platform."
"I love the personalization of the user interface," says Sandra. "It recommends and uncovers pieces of knowledge based on your user behavior or preferences that you set on the system."
The automated tagging and uploading were another big bonus, allowing knowledge to be tapped into and accessed. But, it's the support to encourage and ensure user adoption that has been game-changing.
"We don't only have a tech solution but also a full team at Stravito supporting in the background to make sure that usage remains high," says Sandra.
Navigating a Complex Migration
"Flexibility is also extremely important when shifting to a platform-based solution," adds Natalie.
"Stravito's ability to collaborate and work with us has been essential, particularly as accessing insights from more than 5,500 SharePoint Drives comes with a lot of challenges."
Sandra adds,
"Initially, our migration was an elaborate process as we had 200,000 files to upload."

"I needed to work closely with IT and Stravito to access closed drives but also adhere to our compliance processes and data privacy checks. Stravito's tech team was incredibly helpful in guiding us through this process."
Once this had been completed, Reckitt could start uploading files. This is when the idea for Megaupload was born.
Megaupload is a new feature on Stravito that allows customers to easily transfer large volumes of files in bulk, enabling them to migrate onto the Stravito platform in a smooth and efficient way.
Adoption and Rollout
Today Sandra counts over 400,000 files, equating to more than 100,000 reports, on Lexi, Reckitt's internal brand for the Stravito platform.
"We're currently uploading about 2,000 files a week," says Sandra. "We create a critical mass of insights for local markets using Megaupload and then hand it over to them to use on a regular and ongoing basis."
Already demand for Lexi is strong across the organization.
"We need to be selective with which areas of the company we onboard first," says Natalie. "Initially, we are selecting business units and areas that drive the biggest revenue impact."
Sandra adds, "But, the smaller markets are already reaching out to us about Lexi, looking to find out more."
"We're even seeing new behavior where colleagues are proactively looking to upload historical data because they want to leverage Lexi to gain better access to insights at their fingertips."
Sustainable Value Creation
But, whilst Lexi already supports over 1,500 users and handles more than 400,000 files, Reckitt was keen to understand the true added business impact.
"In this economic climate, we need to make sure that every pound is invested in the most efficient way, so we wanted to understand how Lexi is adding value for Reckitt at a deeper level."
Working with Stravito, Reckitt has developed a model that calculates Lexi's sustainable value creation.
"The model looks at three things:
User Behavior: analyzing metrics such as how often and what types of reports are accessed.

We're looking to gain a deeper understanding of the re-use of our Knowledge Assets.

Qualitative Assessment: using storytelling to illustrate how LEXI impacted business initiatives and decisions with the knowledge available.

Measurable Impact: tying results such as cost and time savings into business impact. For example, quantifying the cost saving in eliminating duplicate research purchases.
"We're still in the pilot process of rolling out this model but we're confident in its ability to showcase sustainable value creation," says Sandra.
One Team, One Platform
Now that Reckitt has reached critical mass, it is rolling out to users across Marketing.
"Lexi is part of core training modules in marketing and made available to employees globally. On top, we are rolling out local training modules in December," says Sandra.
"You don't need to learn how to use Lexi," says Sandra. "It's very intuitive. The way I think about it is 'Who taught you how to use Google? No one did' and it's the same with Lexi."
"Local Insights & Analytics Ambassadors will help onboard new users with short tasks to enable Lexi and get to grips with the platform, this helps to get users to adopt LEXI in their jobs. For example, adding Stravito as a bookmarked page in their browsers, and configuring Stravito's Insights Radar to start providing personalized insights and driving value."
Down the road, the Insights Centre of Excellence will continue to develop into Reckitt's core ambassador for using Lexi, promoting usage across teams and geographies.
Natalie concludes,
"As the usage and adoption of Lexi grows, we will continue to learn and monitor people's behavior. We look forward to working with Stravito as we continue to improve and expand the platform to maximize research spend at scale."
Subscribe to our newsletter