Adoption is the most significant driver of ROI for your insights platform. The more insights are used, the greater the business benefits. Our philosophy is to put users first – because usability, not features, drives engagement and adoption.
Tried-and-true
best practices for rollout
Advanced technology alone won't guarantee success. The most successful insights teams are the ones that have the right tools and processes to support them in doing their best work. Our best practices are based on roll-outs with global organizations across a range of industries: dairy, beverages, consumer electronics, luxury goods, telecoms, and more.
"It was amazingly smooth. With Stravito doing the most of the work, the implementation was so easy."
Rebecka Thulin
Consumer Insight & Market Analyst | Atria
"We started uploading documents in December, and we now have over 1000 on Stravito. All of which were reports previously stored on drives elsewhere."
Neil Macfarlane
Insights Director | Pepsi Lipton
1. We pinpoint your needs
Over a couple short meetings, you tell us when you need your system to be live, what information you need in it, and how you want it classified.
2. We do the heavy lifting
While our machine learning algorithm is being trained to your company's specific needs, we'll make sure all the tech details are in place.
3. You're up and running
In as little as 4-5 weeks, your insights platform is ready-to-go. It's really that easy.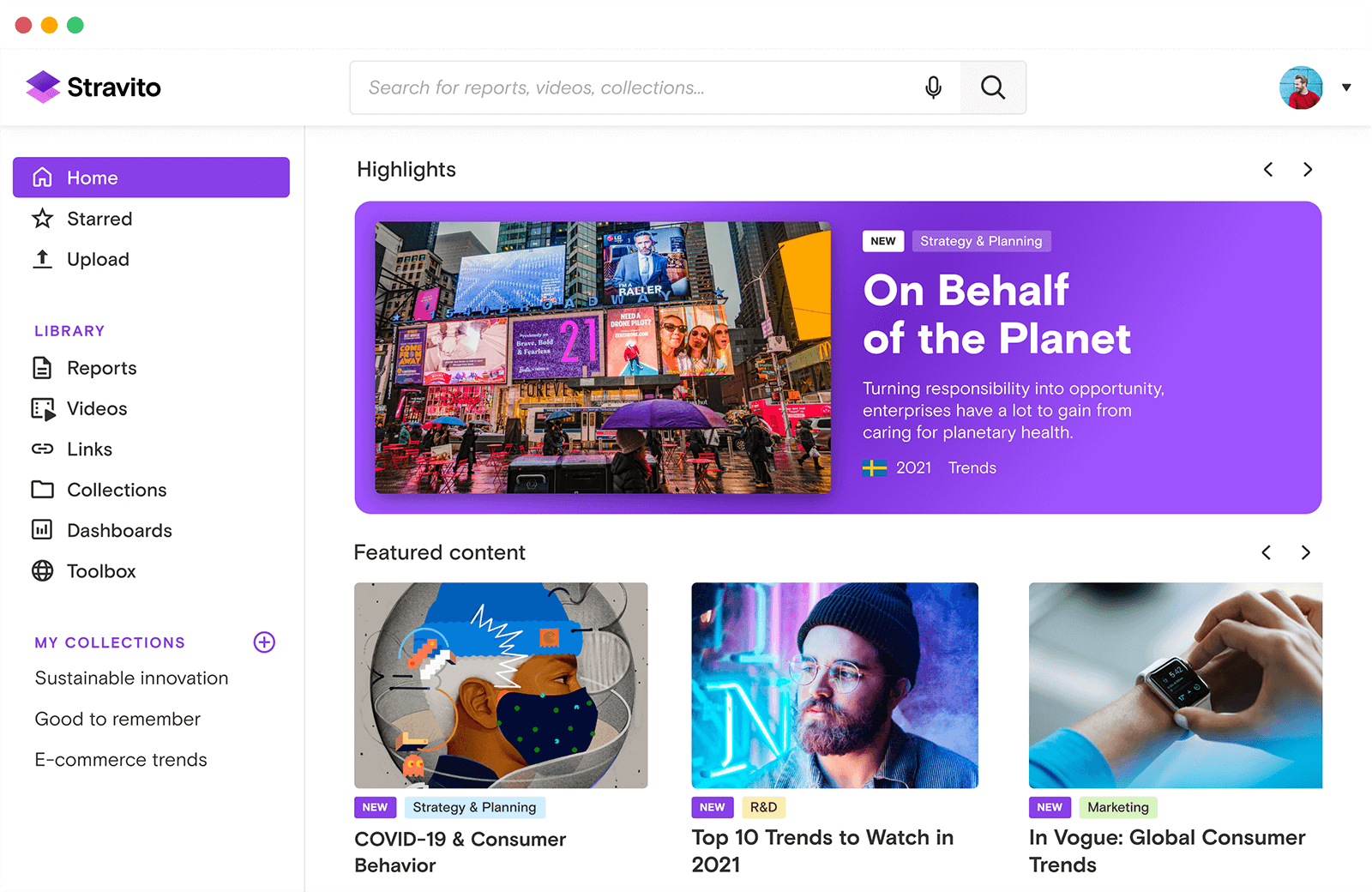 Say hello to your Stravito Concierge.
The Stravito team is laser-focused on saving you time and making your job easier. Part of that is making sure you have the change management resources you need to drive engagement and adoption, now and in the long-term.
During implementation and beyond, we're at your service with:
Support for your internal advocacy

Tailored plans for global roll-out

Helping hands to lighten your load
Frequently Asked Questions
We have specific needs. Can we tailor the platform to our organization?
Yes, absolutely. We know that customization is crucial for large global organizations. You can tailor appearance, taxonomy for classification, filters, integrations, roll-out support, and more.
How does roll-out work if we're working remotely or in a hybrid set-up? Does that make it harder to get started?
How do you ensure ongoing user engagement?
Loved by Insights teams at world leading brands because...
"The simplified, consumer experience that Stravito provides is crucial to keep colleagues inspired and encourage them to collaborate."
Nick Rich
VP of Insights & Analytics | Carlsberg Group
"We found a lot of knowledge sitting in disc drives, or on Teams sites around the world, but with a huge potential to increase their ROI if were able to take it to more people. And that's why we introduced Stravito."
Edwin Taborda
Global Insights Director | Electrolux
"We want to give individuals the information to do their job correctly, and Stravito has been an important piece of this puzzle."
Neil Macfarlane
Insights Director | Pepsi Lipton
Consumer behavior is complicated.
Your insights platform shouldn't be.
Stravito is designed to be fun and easy to use. No convoluted manuals or endless training sessions. Just powerful technology wrapped in a beautiful, intuitive interface to help you take the way you work with insights to the next level.
Book a demo