"Stravito powers insights across the organisation - from our research laboratory and brewery colleagues through to channel sales & partners."
Nick Rich, VP of Insights and Analytics at Carlsberg Group
About Carlsberg Group
The Carlsberg Group is one of the leading brewery groups in the world. Over the past 172 years, the organisation has grown rapidly producing unique flavours and products to remain at the forefront of its industry. Today, it counts 140 beer and beverage brands, sold in 150 markets around the world. With an undeniable industry stronghold, the Group holds number one and two market share positions in 25 countries.
A key driver to Carlsberg's success has been the Group's ability to connect and scale globally.
Carlsberg's Insights Team has been a core part of this, analysing consumer and market intelligence so that multiple teams in multiple territories can adapt to constantly evolving demands.
Since joining in March 2019, Nick Rich, Vice President of Insights and Analytics, has been keen to unlock Carlsberg's insights even further.
-At Carlsberg, we believe knowledge should be accessible to all, no matter where in the organisation someone is, says Nick.
-We all need to understand real people living real life and have access to that information so we can brew today for a better tomorrow.
Why Carlsberg Uses Stravito
As part of this, Nick has started to roll-out a knowledge software powered by Stravito allowing teams to store and share market research.
Today, nearly 300 people at Carlsberg can use Stravito to find and source consumer insights and market intelligence in just minutes.
-From our research laboratory and brewery colleagues through to channel sales & partners, this knowledge touches each and every person, even if the end consumer doesn't know it.
Similarly to Spotify and Netflix, Stravito's knowledge software curates content for Carlsberg. Some of the curation is done by computer, but a lot of it is done by human beings.
-It is essential to have a tool that not only supports our efforts but also doesn't distract from them. The simplified, consumer experience that Stravito provides is crucial to keep colleagues inspired and encourage them to collaborate.
-The ability to deliver the most relevant-up-to-date information is also essential when it comes to sustainability and customer experience. At Carlsberg, we're committed to designing products that are great for our customers and for the planet. For example, last year we announced that we were developing the world's first paper beer bottle. We hope that with Stravito, we'll be able to produce even more innovative products for our customers."
Learn more about why Carlsberg uses Stravito in this interview with Nick Rich, VP of Insights & Analytics at Carlsberg Group: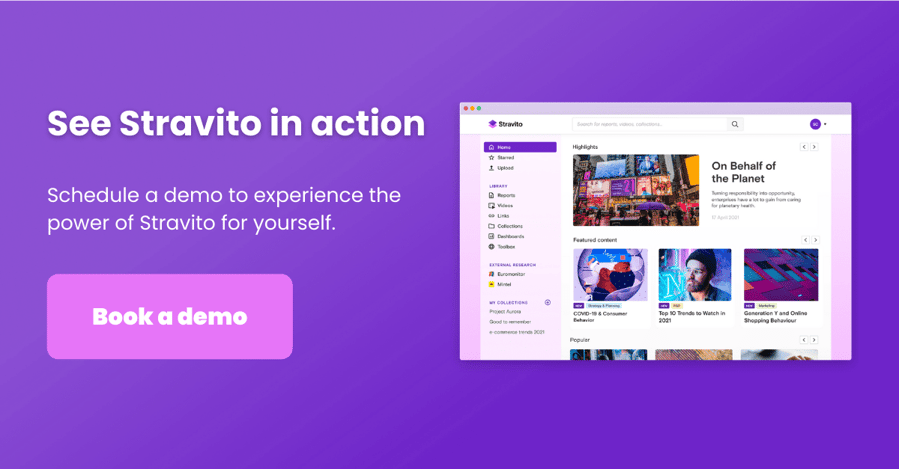 Subscribe to our newsletter