Wouldn't it be wonderful if you could be served with market intelligence that helped you make data-informed decisions – instead of having to actively search for it?
We thought so too and hence decided to build the "Inspired by your recent activity" feature right into Stravito.
When you log in to Stravito, we will now provide you with further reading about topics that you like directly on the home page. It doesn't get much easier to stay on top of subjects than this! Just log in to Stravito and enjoy.
How does AI-powered recommendations work?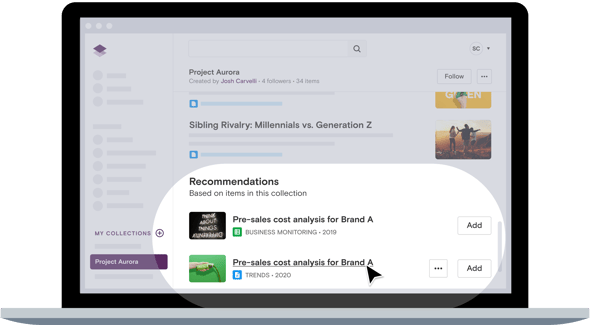 Our AI engine keeps track of what you do in Stravito and learns your preferences as you go. The more you use Stravito, the smarter it gets. This also means that when your preferences change, so do the suggestions Stravito will give you. All automatic.
Collections also get an AI upgrade
Another neat feature in Stravito that also just got an AI upgrade is Collections, which are like playlists of insights. With a Collection, users can organise market intelligence in any way they like – by topic, brand, or research type are just a few examples.
But how do you know that your Collection is complete? What if someone adds a new report to Stravito that should definitely be added to your collection and get the attention it needs?
To help you organise your market research into useful collections and stay on top of subjects of interest in your daily work life, we added content recommendations to Stravito. Based on the content you have already added to your Collection, our AI engine will suggest further relevant market research to you so that you can easily choose to add it to the Collection if you want. This way you will never miss out on relevant research and can create those great Collections of insights to help you and your colleagues be more data-informed. It's that simple!
Subscribe to our newsletter