Once upon a time, there was a company who started to sell books online.
But then after a while, they started to sell electronics, software, video games, clothes, food, toys, and jewelry. Later, they started to create their own entertainment content, launching streaming services, an AI-powered voice assistant, and they acquired a multi-billion dollar grocery store chain.
If you haven't already recognized the company described above, it's one that you're likely familiar with.
Since the day it was founded 26 years ago, Amazon has transformed from an online marketplace for books to one of the largest and most influential technology companies in the world.
Of course, back then, few could have predicted the widespread impact that Amazon would have or how it would evolve. Initially, it was only competition for booksellers, like Barnes & Noble. But now it competes with a wide range of companies, from retail to FMCG, and has shifted consumer expectations across verticals with unprecedented convenience and logistics miracles like Same-Day Delivery.
One reason why Amazon and other e-commerce companies have an edge is their wealth of customer data. A fact which highlights the importance of competitive intelligence in today's markets.
In this article, we'll cover the foundations of competitive intelligence, including (though certainly not limited to):
What it is

Why it's important

How to work with it

The benefits you can expect
So let's dive in.
1. What is competitive intelligence?
Competitive intelligence can also be referred to as corporate intelligence. It is the ability to collect, analyze, and use information gathered on customers and competitors to a business's competitive advantage.
Competitive intelligence is crucial for creating effective business practices. Information can simply be collected by studying a competitor's social media posts for details of a new product launch, or a more tedious approach like researching everything about a company's business environment, competitive products, competitors, services, and identity.
The information-gathering and analysis process is an integral piece of every successful business strategy. It can help a company understand where they stand within their market, make data-driven decisions, and identify competitive gaps to avoid unprofitable operations.
Unlike espionage which pertains to ethically questionable activities such as paying a competitor's employee to provide confidential information or hacking a competitor's database, competitive intelligence results from a company's efforts towards making better-informed decisions and avoid being caught off-guard by any competitor's strategy.

2. What are the goals of competitive intelligence?
Goal setting is an important part of business planning, and it effectively helps guide your focus and sustain a set momentum. It all begins with a clear understanding of how the knowledge you find yourself in possession of and making it impact your business over a long period. Goals promote a sense of self-mastery.
The goal of competitive intelligence is not to copy all the ways of your competitors, rather than studying and learning alternative ways to do better than them. Copying your competitors will always have you one or two steps behind, leave you at a disadvantage, and make it hard to stand out.
The following are the basic competitive intelligence goals and how to go about them. It is important to keep the following goals in mind.
Goal #1: Win new customers (and keep the ones you have)
Ordinarily, the power of choice puts you at the mercy of your customers. Getting a prospective buyer to choose you over a host of other competitors can be daunting. You need to offer value, be consistent in your services, and offer unique solutions to convince prospective customers that you are the best bet.
In situations where you don't know enough about a competitor's offerings, it can be challenging to position your products and brands effectively. Supplying your team with the right information can bring tremendous profit to your business.
Goal #2: Improve market positioning
Anyone can get a customer's attention, but there has to be a legitimate reason to evaluate your products. Your business needs to have something truly remarkable before anyone can even think of giving you their hard-earned cash. This is, in large part, tied to the role of your marketing team and to a large extent your consumer insight team.
Competitive intelligence might tell us what we want, but it is consumer insights that will make us see the reasons why it's happening. This can in turn gear us to make our business more profitable, boost customer satisfaction, and retain prospective ones.
It's through positioning that marketers can earn the attention of your customers and establish the differentiated value of your products and brands.
Goal #3: Design better products
Our focus has primarily been on the importance of communicating value, which is an effort largely coordinated by sales and marketing teams. But creating value is also an integral part of a productive business. This is where Product teams come in.
Product managers are responsible for developing unique products that your customers will love.
Competitive intelligence is an essential piece of this puzzle, as it helps to determine how you can better solve consumers' needs.
Goal #4: Develop long-term business strategy
As product managers create innovative products, marketers improve positioning, and brand managers build iconic brands, executive leaders make informed decisions that will bring about long-term business strategy.
Besides helping their direct reports do their jobs as effectively as possible, executive leaders shoulder a lot of responsibility that extends far beyond product strategy work.
They ask long-term questions on how to increase growth revenue and market share if there are other markets to break into, and ways to shield the company from needless risks.
Competitive intelligence plays an undeniably crucial role in answering these questions. Growing your market share, looking to break into another market, and mitigating risks can only be achieved by having rich knowledge of who your competitors are and who your prospective customers are.
3. Types Of Competitive Intelligence
We can categorize competitive intelligence activities into two, namely Tactical and Strategic intelligence:
Strategic intelligence
Strategic intelligence focuses on longer-term issues. Its major aim is to provide organizations with information that looks at future possibilities to recognize emerging trends and patterns.
By presenting decision-makers an opportunity to see potential business ideas, strategic intelligence can help transform the outlook of an organization.
Senior leaders in organizations are the most common users of strategic intelligence, as they are primarily responsible for making the macro-level decisions that define the organization's path and future. However, in order to get the entire organization working towards the same vision, it's crucial to ensure that stakeholders across the organization can easily access and incorporate this knowledge into their areas of expertise.
Tactical intelligence
Tactical intelligence focuses on the present. Tactical decisions are made based on the information provided to carry out existing business initiatives, such as capturing market shares and increasing revenues.
Decision-makers can look past the strategic decisions that have brought them to their current state and implore tactical intelligence to redirect resources and take advantage of current opportunities.
Specialized stakeholders, like marketing, category, brand, or product teams, are good examples of tactical intelligence users. Since they specialize in specific areas, they can plan tactical operational decisions to maximize their team goals.
4. Why are competitive intelligence and analysis important?
Building a strategy without competitive intelligence is like planning a road trip without a map. You might eventually reach the destination, but it will be much more difficult.
Competitive intelligence analysis is very much important, and the following are the reasons why.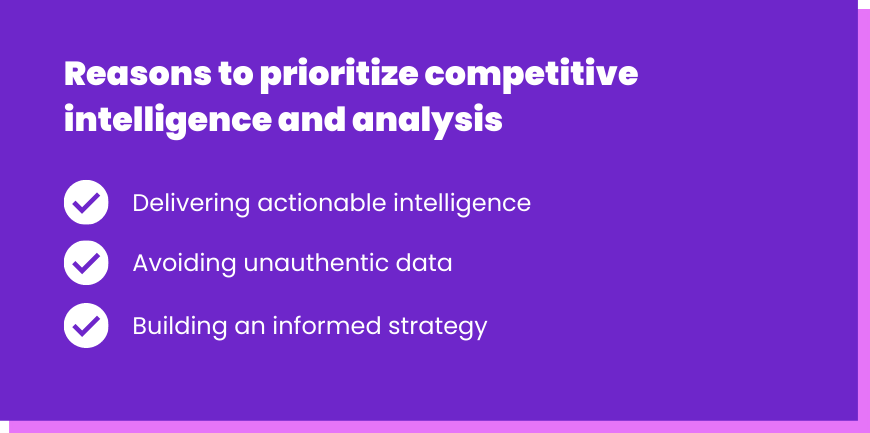 Reason #1: Delivering actionable intelligence
Data analysis is done to ensure validity and applicability. This crucial step helps to narrow a large percentage of data down into meaningful information. Companies can comfortably differentiate between consistent patterns and irregularities that will expose the bulk of competitors' strengths and weaknesses. Data is analyzed to discern insights from massive amounts of data gathered.
Reason #2: Avoiding unauthentic data
To avoid circular intelligence, be sure to have at least three separate sources. As humans, we naturally assume information is true when it comes from different sources, even though the information might not be valid, and the sources might parade the same information from one source. Therefore, verifying the authenticity of the data's origin through analysis is important.
Reason #2: Build an informed strategy
One very important area of competitive intelligence analysis is price-to-win analysis. The process works to find a common ground between competitor behavior, a profitable price, and the buyer's perceived value of a solution. It is the ultimate solution to align a business strategy to the prospective customers' needs while differentiating their solution in a competitive situation.
A successful price-to-win strategy leaves a company in a great position that distinguishes a company's offering from others in the market and provides value altogether.
5. How to gather competitive intelligence
Before you begin to research competitive intelligence, you must make a plan on which competitive insights are important, how to carefully choose your competitors, and which market is worth spending your time on. By doing this, you prepare yourself for unforeseen circumstances and save a lot of effort and time chasing after struggles that are of no value to your business.
Look out for common patterns when making use of the following competitive intelligence assemblage methods:
Know your competitors
Staying aware of your direct competitors is the first and fundamental step to take towards gathering competitive intelligence. Your direct competitors may be vast or few depending on your industry, and the landscape might be shifting constantly.
With new technologies constantly emerging and evolving consumer needs, it's essential to be up-to-date about all options on the market, even if they don't look the way you'd expect them to. It's important to consider all solutions to the problem you are trying to solve for your customers.
Identify research objectives and major areas of interest
It's very important to note the exact areas you want to learn about your competitors. Without having this structured outline, your competitive intelligence would often be limitless. Once you've been able to identify your area of interest, what you should do is make clear objectives on what to do with your competitive intelligence program.
Just by having well-defined goals, your competitive intelligence search has a clear and definite direction.
Collecting external competitive intelligence
Valuable information on your competitors can be gotten from several sources. By having the right competitive intelligence tool, you can easily gather and access various external information about your competitors internally. More importantly, your business can get real-time internal insights and document them for easy access.
External Data
There is lots of information on your competitor scattered all over the internet. To have access to this information, here are places to kick start your research;
Review websites
Social media and content
Packaging, Product, and Pricing on competitor websites
Strengthen competitive intelligence
The team set up to gather and analyze competitive insights is a major determinant in how valuable a competitive intelligence is. Every member of a competitive intelligence team must always be a custodian as well as a researcher of competitive data. Therefore the need to always share intel with every member of the team is very important.
Assemble competitor profiles
Once you can get vital competitive information, what comes next is carefully building and assembling competitor profiles. By classifying and organizing intel by distinct competitors, you will start to establish a comprehensive profile of businesses and firms you're competing against.
Submit competitive insights with appropriate stakeholders
Building a comprehensive competitive profile isn't the end of it. To make sure the research put into collecting these competitive insights is not futile, the need to share this insight with appropriate stakeholders is important.
As long as these insights get to appropriate and relevant stakeholders, appropriate actions can be taken to compete effectively.
6. How to work with competitive intelligence
Competitive Intelligence is quite a complicated process. There isn't a straightforward manual to go about competitive intelligence since it always has to be adapted to a specific niche, market, industry, or firm's unique factors.
However, we'll try to create some kind of standard guidelines that relate to all kinds of industries and to help you work more effectively with competitive intelligence.
In general, it's key to stay aware of all vital information and to react quickly any time there's a new opportunity or threat. To work with competitive information, you have to:
Step #1: Create research objectives
Come up with specific research objectives to determine what to expect from the mission you are about to embark on, so you don't send yourself on a wild goose chase.
Step #2: Gather the data
Collecting data is the next on the list. Collecting data from your competitors can be a daunting task. You might spend some time searching for the right sources and sifting through tons of data to find out which one matters. Information gathered will help answer your objectives and recognize opportunities in the market.
Step #3: Evaluate the data
Data collected should be evaluated and modified into useful ideas. The process of transforming data into valuable insights is the essence of competitive intelligence.
Step #4: Process the data
The valuable insights learned from all collected data are to be well-written and organized to create relevant and useful information in order of ranking. This process of the end product is known as an Intelligence Digest.
Step #5: Act on the data
Once the intelligence digests have been finalized and brought forward to the stakeholders, prompt actions should be taken on such information towards the achievement of the company's goals.
Step #6: Repeat
Repeating the whole process at intervals is very vital. By doing that, your organization is able to stay constantly updated about new developments in the market. Competitive intelligence should always be regarded as a continuous process.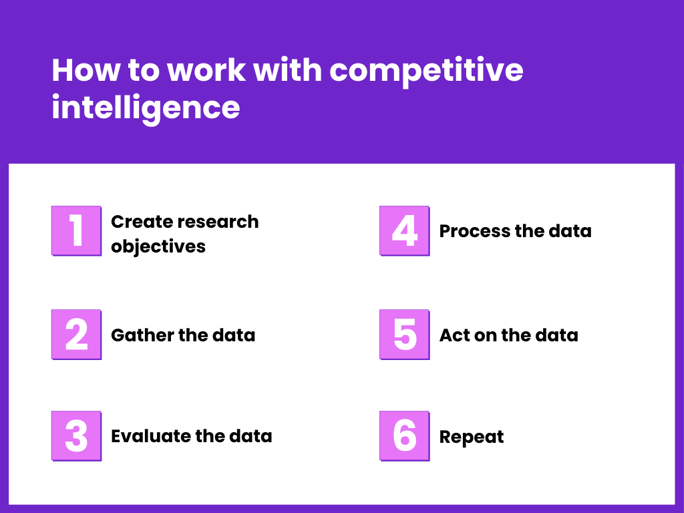 7. Sources Of Competitive Intelligence
Good intel is as important as the source. You should pay a lot of attention to how solid the source of information is. The sources below are a great foundation for competitive intelligence:
Competitor websites
The website of any business is the window to its general market. Therefore, examining a competitor's website can give great insights into the mode of operation of your competitor. Asides from general information like leadership team, geographic location, and their products, websites can also give insights into their marketing techniques.
For example, a press release on their website can give valuable information about the firm's latest partnerships, changes in products, market expansion, and so on. Furthermore, examining their user experience and website content can give more items into search ranking, traffic, positioning, and keywords. The job description updated on their career page can give vital information about investment areas, current projects, and the structure of the organization.
Yearly reports
Annual or yearly reports are also credible sources of companies' data. The annual report can provide information such as numbers of employees, business growth and strategies, subsidiaries, stakeholders, revenue, and lots more. Yearly reports give an extensive insight into your competitor's overall operations and their financial status.
Premium databases
In some cases where free available information is restricted, paid databases such as Factiva and Capital IQ are very valuable to sources of competitive intelligence. These premium databases offer profound and comprehensive information on pricing, products, companies, innovation, investments, and several other business intel.
Analyst reports or syndicated reports
If what you need is intel on your competitors' best practices and benchmarks, then analyst reports are your best bet. Syndicated reports provide vital information on virtually anything ranging from growth forecast to market-related numbers to company profiles specific to the industry to new trends.
Syndicated reports provide a summary of your specific industry including the main players in the industry, how their services match up with the market needs, and how they distinguish themselves, offering a better clarity of the competitive terrain.
Fundamental research
If your business needs granular data on competitions, you can easily carry out primary research like interviews, surveys, mystery shopping, and so on. Basic information collected from distributors, customers, and suppliers gives insight into competitors' services and products that may not be found elsewhere.
Information gathered through primary research assists in understanding customer's behavior in relation to your products and your competition. This helps you to improve your marketing strategies about the growing needs of customers
Social media
Online forums and social media platforms have enough information for competitive intelligence. Evaluating conversations on social media can reflect how your business comes up against your competition. Unfiltered and honest feedback about your competitions also gives insight into their services and products.
This information can then be used to improve your marketing strategy and products. Furthermore, monitoring your competitor's social media profiles gives insights into their recent developments, collaborations, sponsorships, and partnerships.
Patent Databases
Evaluating the patent portfolio of your competitors provides vital information concerning their R&D goals, and new products they are developing. This will assist in developing practical innovation techniques. By tackling the gaps in your IP, you remain better prepared for likely disruptions within the industry as a result of technological innovations.
8. Benefits Of Competitive Intelligence
Competitive intelligence allows you to maintain a unique offering when compared to competitors. Here are some specific benefits:
Benefit #1: Predicting competitors' moves
With adequate competitive intelligence, you are equipped with the necessary information that enables you to predict your competitor's next move.
For instance, having credible information that your competition is launching a new product prepares you to have a counter product that rivals your competition. This allows you to actively compete and not get sidelined in the market.
Benefit #2: Making prompt business decisions
Since you're aware of your competitors' next move, you are adequately prepared to strategize and carry out your next move. Once you know what other companies are planning you're able to stay competitive in the market.
In the situation where competitive intelligence suggests you're heading in the right direction, you keep pushing forward. Meanwhile, on the other hand, you can promptly change your course, product, or marketing strategy to stay relevant in the market.
Benefit #3: Recognizing gaps
Competitive intelligence helps to point out gaps or loopholes within your business about what your competitors are accomplishing. The data collated helps to see how competitors are growing and which market areas need more investments. Competitive intelligence assists in finding new techniques, services, and products that distinguish your business within the market. It also allows your business to evolve together with customer preferences.

9. Competitive Intelligence Tools
A good way to differentiate your product and services from everyone else is by doing everything possible to guarantee the success of your product. One way to do that is to use both a knowledge management platform and a dedicated competitive intelligence software that will save you a ton of money and time through automation.
While it's a smart idea to invest in a quality knowledge management software like Stravito, there are lots of free competitive intelligence tools to help get you started.
Crunchbase is a very robust and excellent tool that can aid your competitive intelligence research on companies. You can use it for a quick overview of competitor's investments, stock trends, acquisitions, and other financial information.
This CI tool makes use of machine learning technologies along with a community of contributors, to sum up, company data from startups to the Fortune 1000 companies on subjects such as investments, leadership, funding, M&A, and industry trends.
Identifying your competitors and measuring yourself up against them is Owler's greatest strength. You're presented with a snapshot of all the key details of your top and emerging competitors and see how you're missing out on the key measures to take.
Owler has a daily email alert program you can subscribe to to get notifications and monitor your competitors to stay updated on their latest news and announcements.
Talkwalker Alerts is a great alternative to Google Alerts. Apart from tracking competitor news, it also helps to make comparisons between your brand and a competitor on blogs, forums, or discussion boards, and all social media platforms for conversations and search terms.
Not only will you be aware of your competitor's activities, but you will also know everything that's being said about them in the digital world. Another perk talk water offers is the provision of industry trendy topics and market happenings to help you stay updated in your industry.
VisualPing allows you to set alerts targeted at changes on your competitor's websites. These pings can be directed at promotions, news about a specific product launch, or a change in their website's navigation that might suggest something new coming up.
Information like this gets you prepared for any new surprises that might affect your business in the long run.
VisualPing's free package allows you to track two specific web pages with daily updates and 62 free checks a month or one update per month and 62 individual pages.
This Competitive intelligence tool provides you with insight into the performance of your top competitors' websites and allows you to assess your website's performance against them. You'll also be informed of the sources of all searches and know whether they are from organic sources, referrals, or other sites.
SimilarWeb's Algorithm provides details like site traffic, web conversions, sales, visitor stats, search results, and other related information. Comparing the results of the data can help you understand what information visitors are looking for that's not present on your site.
SpyFu is a lot to SimilarWeb in the sense that it focuses on the performance of your website based on marketing strategies. It can be used to find out how you compare to other websites in search traffic and scale up your SEO rank.
You can add the terms that match your business for your SEO strategy and discard the ones that are not useful. Spyfu's major priority is on keywords and Google Analytics metrics to fetch you an idea of what your competitors are doing online to drive traffic to their site.
Moat can be used to track your competitor's promotions and digital advertisements to measure against your designs. This tool works by capturing screenshots, ad dimensions, visitor charts, and indexes. MOAT is a great option for researching design ideas
Having a good interface and an impressive ad that'll guarantee click-throughs is one sure way of attracting prospective customers.
Google is the biggest search engine in the world, their reach span across pretty much everywhere. If you want to be absolutely certain of not missing out on any news about your industry and competitors, Google alert is the way to go.
However, Google alert seems to be a work in progress, even though it is owned by Google, the tool does not optimize competitive intelligence research with the use of natural language processing (NLP), which in turn finds it hard to differentiate between keywords affiliated with the company you want to keep tabs on.
If what you want is advanced information-gaining competitive intelligence tools, then you have to look further than Google alerts.
SEMrush provides the basics like every CI tool and the reason it is the last on this list is that it stops at providing just the basics. It is a good tool that will allow you to gain insights into strategies that are working for your competition through different perspectives like SEO, Content and PR, Advertising, Organic Search, and Social Media.
These metrics if used in the right way, can help you make correct data-driven marketing decisions and identify growth opportunities to improve your overall customer base.
SEMRush Competitive Intelligence toolkit offers something comprehensive enough that a lot of analysts, marketers, sales teams will find informative but they will get to a point where they'll need more detailed information. Find yourself a more complete competitive intelligence tool if you are really serious about competing.
10. Conclusion
The key to identifying strategic opportunities and ultimately scaling up business-wise is through continuous, timely, and accurate competitive intelligence. While every Tom, Dick, and Harry (and Molly) can find information about a company on the internet, competitive intelligence goes beyond just scratching the surface through easily accessible information. It involves translating extensive and substantial data about your competitors into actionable processes to achieve significant results.
Result yielding competitive intelligence can only be achieved through thorough analytical expertise and good knowledge management because when data comes in various forms like the news media, competitor interviews, public filings, industry experts, conferences, trade shows, and various disparate sources, you will want it expertly analyzed to maximize its full potential.
You get to know the full breadth of a company's everyday activity as well as key distributors, stakeholders, suppliers, and competitors. For guaranteed success in your business, employing good and ethical competitive intelligence practices is the way to go.
Subscribe to our newsletter