Over 20 years ago, Andreas Lee and I took our first steps towards founding Stravito. We just didn't know it yet.
In the late 90s, we had started Tasteline, a first-generation digital recipes site, that proved to be an excellent environment for performing consumer research. And so the idea for another venture was born: SimStore.
SimStore: a global shopper research agency
In 2002, we created SimStore: a virtual shopper research tool that lets you understand and predict shopper dynamics at the point of purchase.
Then for 15 years, we spent every day diving deep into the world of market research. As we ran NORM, the agency behind SimStore, we were fortunate enough to call many of the world's biggest brands across media, telecommunications, pharmaceuticals and FMCG our clients.
From our first office in Stockholm, we soon built out the team and geographical footprint with 70 employees across France, Germany, Belgium and the Netherlands. But the vision we had was global, so when the opportunity arose for NORM Simstore to join forces with Gfk, the world's 4th largest market research agency, we were thrilled at the prospect. And in 2015, SimStore officially became part of GfK.
Today, SimStore is owned by Ipsos, and many of our original team members still call this fantastic organization theirs.
The challenges of global enterprises
During our time creating and developing SimStore, we also built fantastic relationships with some of the world's top brands. And we saw first-hand some of their most pressing challenges. Specifically, that keeping track of all of the research they had commissioned from us, and making sure it was shared and used across the organization, was a challenge for almost all of them.
We often received calls from clients who couldn't find the very research they had commissioned from us. After spending hours looking through email threads, internal drives, intranets, and sometimes even old computers, they'd finally call us, to ask for an additional copy of the report.
At other times,
Clients would call up to request new research, only to learn from us that colleague in another country had recently commissioned that same study.
I remember one particular meeting in 2014 when we were in London to present a global study for one of the world's leading brands. Stakeholders from all over the world had flown in to attend the presentation, the results were great and everyone was really excited about it. Then after we wrapped up feeling really good, one person came up to us and said "This was fantastic. The only issue is: we did this exact study two months ago." We were floored. How could this happen in one of the world's most successful organizations?
How could a global leader accidentally recommission a report worth 200,000 euros?
Time and time again, we'd receive calls from clients asking us to deliver an overview of all the research they'd bought from us. "I'm new here and just want to understand whether we've done anything in this area." Or we'd be asked to summarize everything we knew about a particular topic or area. In essence, sifting through 150 page reports spanning multiple years that the client had bought from us but had no system to help them locate or make use of internally.
For some clients, we were actually part of the new employee onboarding process.
"Hey Anders, we have a new team member starting in Baby Care, can you please do the usual presentation?"
And we'd spend hours upon hours, locating, summarizing and listing all their available projects and reports. Because the client didn't have the right tools to do it themselves.
We saw that keeping track of knowledge and insights was a universal problem. And so we decided to do something about it.
Building a solution
Fast forward to today: meet Stravito. A user-friendly knowledge management software that lets you store, search and share all your market research and insights–easily and securely. Built to solve the very problems we experienced first-hand during our 15 years delivering market research and insights to the world's biggest brands.
And that's the ultimate insight, isn't it?
The ability to effectively make use of the collective knowledge currently spread out across your organization is a major contributing factor to the success of your projects, the success of your products, and ultimately the success of your business.
So, are you in?
Over the last few years, we've made substantial progress in our mission to simplify knowledge discovery for the world's leading brands
We're proud to name household brands like Electrolux, Danone, and Carlsberg among Stravito's clients.
Now, if you're tired of:
wasting your time searching for that file you forgot the name of
losing attachments in your inbox time and time again
commissioning research that is perhaps already answered
And you're ready to:
access relevant insights in seconds
easily and securely share the right reports with the right stakeholders
increase the value of the research you commission
Then let's talk. Because we built this for you.
Best wishes,
Anders Örbom
Stravito Co-founder & Chairman of the Board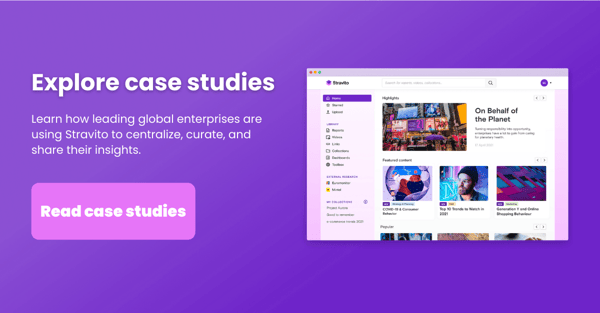 Subscribe to our newsletter