Stravito is not just about efficiency; it's about flying the flag of the consumer in the organisation.

Neil Macfarlane, Insights Director at Pepsi Lipton.
Pepsi Lipton is a joint venture between PepsiCo. and Unilever. Available in over 100 markets globally, the business is famed for its iconic Lipton Ice Tea.
Yet, running one of the world's biggest beverage brands, worth £1billion in Europe alone, brings with it a lot of complexity.
Keen to simplify information sharing and put consumers at the heart of the business, Neil Macfarlane, European Insights Director at Pepsi Lipton, started working with Stravito last year.
His goal? To find a solution that would empower people across the organisation to do their job better and more effectively.
Injecting insight into the business
-We want to ensure that we're helping individuals across Pepsi Lipton get closer to the customer and truly understand them, says Neil.
-To achieve this through insights requires two areas of focus. The first is discipline. This involves looking at how we avoid losing money, ensuring Pepsi Lipton does things the right way and manages any risk, says Neil.
-The second is inspiration. Here, we're looking at how we make more money, ensuring our innovations are going to excite and please consumers. It's all about looking at how we narrow the funnel and guide the teams through the process. If 80% of innovations fail. How do we make sure we're in the 20%?
But, with no central hub that people from all countries can access, Neil found spreading insights and knowledge around the company was often a challenge.
"Have you looked at Stravito?"
It was only after visiting a trade fair that he came across Stravito and looked into how the cloud-based platform could help store and share insights across the organisation.
Over the past ten months, Stravito has become Pepsi Lipton's library for insights.
-We started uploading documents in December, and we now have over 1000 on Stravito. All of which were reports previously-stored on drives elsewhere, says Neil.
-I head up insights for European teams but also have colleagues in the North America, LATAM, Asia, Asia Pacific and China regions. Stravito is opened up for everyone there to access too. It's also a key resource for marketing and R&D.
-In fact, just recently, the R&D team were talking about evolving one part of the Lipton portfolio. They asked if there had been any research on this, so I said: 'Have you looked at Stravito?' It brought everyone together and provided a sense of community.
Finding insights fast
But, Neil says it's Stravito's ease of use that has been critical for Pepsi Lipton, particularly:
The uploading of documents. Adding tags to hundreds of reports can be tedious and admin heavy. Stravito automatically does this for individuals with a simple drag and drop feature.
The search engine. Stravito's deep search makes it easy for people to find information fast.
-Additionally, we find the inspirational collections that Stravito curates are brilliant for new joiners and rewinding," says Neil.
-For example, recently, we were looking at the history of Green Tea in one country, and it was great to give the team collections to look through so they could read through and learn about it themselves. We didn't have to find materials and prepare from scratch."
Representing the voice of the consumer
-Stravito has been an important step in the democratisation of insights and information at Pepsi Lipton, says Neil.
-We're now a much more homogeneous organisation, and that's great because the insights team shouldn't be seen as the owners or gatekeepers. We want to give individuals the information to do their job correctly and Stravito has been an important piece of this puzzle. But, it's not just about efficiency; it's about flying the flag of the consumer in the organisation.
-Because it's so important to be close to the consumer - if you're not, you're playing a high-risk game.
-At Pepsi Lipton, we have listened to consumers. They've told us they want healthier drinks and recycled plastics. We've been able to meet those needs, and the R&D team is constantly looking at ways they can continue to do so in the future.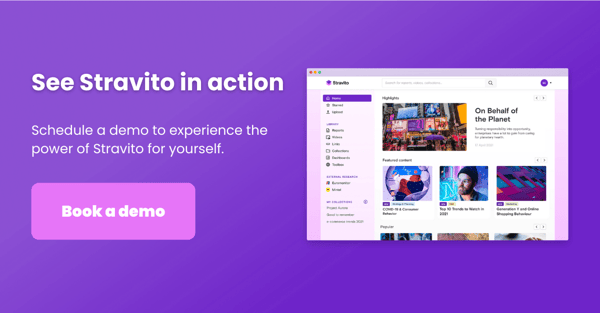 Subscribe to our newsletter