About Bel Group
Bel Group is a healthy snack company, producing a range of foods such as cheese, fruit purees and promoting a healthy lifestyle around the world. Founded in 1865 and still family owned, the French Group now has subsidiaries in 130 countries. Cross borders, it maintains a strong focus on working collaboratively.
Claudine Bras is the Business Intelligence Manager on the Strategic Insights Team and supports this way of working, ensuring knowledge is accessible throughout the organization.
We have one role which is to make sure the voice of the consumer has a label everywhere in the group, which is why we decided to have Stravito: to leverage consumer, competitive, and market intelligence within the group.
Together with a group of ambassadors, she has seen the Stravito platform, internally known as WikiBel, go from idea to fruition.
-There has been a real transformation. Before this project, we had lots of different systems and information was in silos in different departments. That's really changed. Now, everyone in marketing, both central and local teams, and in the R&D department and more, have access to knowledge about our consumers and our competitive markets, says Claudine Bras.
Bel Group's experience with Stravito
From the beginning, the uptake of Stravito has been fast and extremely positive.
-At the start, we did a benchmark of different solutions and decided to use Stravito. We didn't think this would be a big project, it was only for the Strategic Insights Team. But, then we saw the potential of the platform and thought it would be great to have it available across other departments. Now, more than 300 people are using Stravito in the group.
Ultimately, Bel Group decided to work with Stravito for two reasons:
To have a system that was user-friendly. There are a lot of knowledge platforms available but not all are user-friendly. Stravito, I think, is made for the users and not for the projects.
People at Stravito really understood our needs because they came from market research.
There are three Stravito features that particularly stand out for Bel Group.
Collections are important because they provide easy access to knowledge.
Upload, because of how easy it is to add your own documents. (And that you can easily integrate with external databases too.)
When you're looking for things, you get recommendations from the platform.
But the greatest benefit by far, according to Claudine Bras, is the ability to store everything in one place:
The main thing is that you have everything in the same tool. Access to external partners, access to dashboards we have internally. And, access to reports, that we get from our agencies or that we create ourselves.
-We want everything coming from strategic insights to come from this platform.
Before Stravito it was very difficult to share knowledge about Bel Group's competitive environment. But now the Strategic insights organization is able to provide direct access to locally relevant insights.
-For example, we have someone on the strategic insights team in charge of sales in southern Europe. She has created a local collection in Stravito that allows people in countries such as Portugal, Spain and Greece to access local knowledge for their markets that is based on the strategic topics of the group.
-We also have a Collection on our competitors and we've had really good feedback from the general managers of the countries about this Collection.
Looking to the future of insights
Asked about the future for insights teams, Claudine Bras mentions two topics as particularly interesting: personalization and prediction.
How do you personalize insights, reports, depending on the team you have in front of you. How do you make sure they have access to the information they need, without the noise?

And how do you help teams anticipate and predict emerging trends?
Those are great questions. We look forward to working together with you to find out.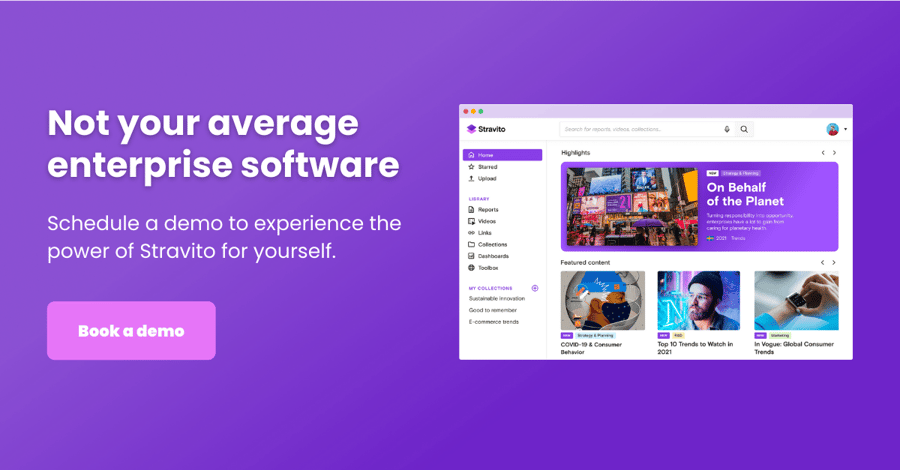 Subscribe to our newsletter