Easily share your insights from Stravito directly to Slack.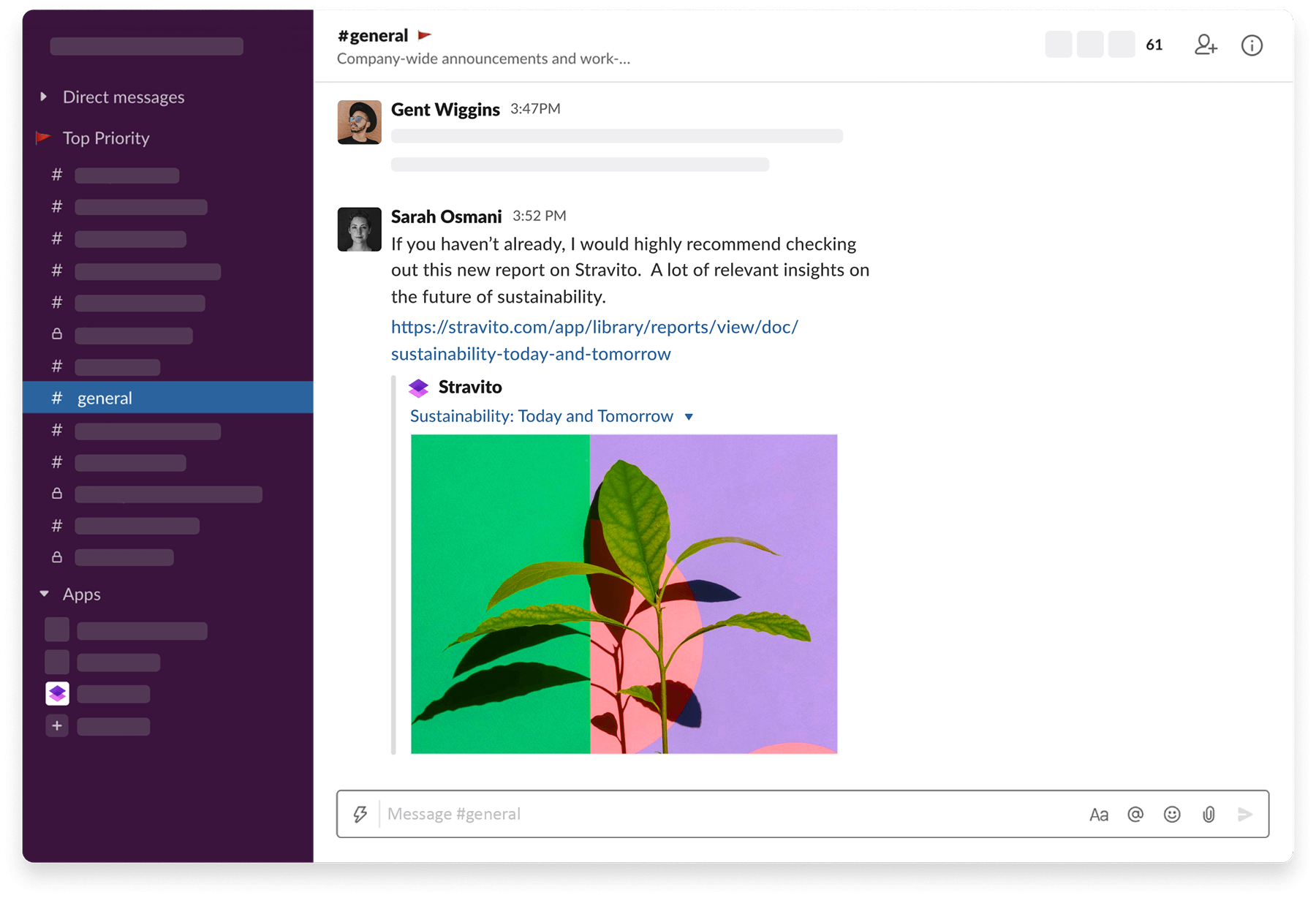 Instantly share insights with your coworkers

With the new Stravito for Slack integration, you can share insights in the same place your teams conversations usually happen: on Slack.
With this new integration, you can:
Share links with users, groups or channels on Slack, directly from the actions menu in Stravito.
Get a link preview on Slack, whenever content is shared from the Stravito platform.
Setting up Stravito for Slack
What's needed?
To set up a Slack integration with Stravito, you need the following:
Stravito subscription that allows Slack to be integrated
Slack subscription
Slack user account with permission to add the Stravito for Slack app.
(By default, any Slack user can install apps. Contact your Slack Workspace Owner to verify if this is true for your organization.)
Easy as 1, 2, 3 ... and 4.
To set up a Slack integration with Stravito, simply follow the steps below:
Log in to the Stravito platform as a platform owner, and go to Workspace & Users.
Click on the Settings tab.
Press the Connect Slack Workspace button
Allow the Stravito Slack app to "perform actions in channels & conversations" on the Slack install page.
Learn more and get support
Contact our Customer Support team by clicking the Help button anytime you're logged into the Stravito platform.
Read more about using Stravito for Slack in our Help Center.
Visit Slack Support for more help.
Store, search and share your insights with Stravito
Stravito is the easiest way for Insights teams to centralize all their research and insights, enable self-service of vetted insights for stakeholders, and deliver timely and inspiring insights across their organizations.
Learn more about Stravito today.