The COVID shift was a trigger point to begin serving teams that knew they needed to act differently with insights that informed them how to.

Anne Sjöberg, Global Vice President, Consumer Insights & Analytics at Electrolux
Electrolux is one of the world's largest global appliance companies selling approximately 60 million household products in 120 markets every year.
But with multiple teams scattered around the world and a business model that changes by region or sector, the insights team at Electrolux has been working hard to provide the entire organisation with one unified, insights-driven consumer voice and perspective.
-We have a 100-year history of building impressive products, and we want to continue this track-record by moving towards a consumer-centric approach where the insights team becomes more of a business partner, says Anne Sjöberg, Global Vice President, Consumer Insights & Analytics at Electrolux.
-For example, we have an organisation with many talented engineers and product developers who know our products inside out but aren't necessarily fully connected yet to consumer behaviours, needs and aspirations. We want to change this by bringing our employees insights about humans (people's values, beliefs, attitudes towards their home and our categories) outside of their core areas so that they can use these to stronger drive development and activate.
-In addition, the world we live in and our consumers live in, changes fast. An important part of our ambition is to show how trends and systemic changes in our world are impacting our consumers significantly in the long term, and we can prepare and take advantage of this knowledge to future-proof our business.
Finding the right technology
-We have a significant amount of money invested in knowledge that currently sits in different drives around the globe," adds Edwin Taborda, Global Director of Marketing Capabilities & Insights.
-So to make a move to an insights-driven culture, there was a need to create one destination that colleagues could belong to and access with ease.
In December 2019, Electrolux started working with Stravito to develop a Global Consumer Insights Library.
-We were looking for simple and intuitive ways to help teams get closer to the customer. Software you didn't need training for, that worked similarly to Google – simplicity is at the core, adds Edwin.
Using Stravito, Electrolux team members can log in to the Global Consumer Insights Library, search, and find internal data relevant to any region or business area in seconds.
And uptake has been faster than expected.
Keeping connected throughout COVID-19
-The COVID shift was a trigger point to begin serving teams that knew they needed to act differently to how they usually do with insights to inform them how to, says Anne.
As soon as the pandemic emerged, Electrolux started uploading culturally relevant reports onto Stravito's Global Consumer Insights Library to help teams track and understand behavioural shifts.
Multiple teams were able to access information that was previously only available to one person. This allowed individuals to review relevant materials while working remotely, enabling a seamless digital transition and facilitating cross-functional discussions to adapt plans where necessary.
-We were making it possible for people who could no longer meet in-person to remain aware of what's happening in the business around the globe.
Throughout March, April and May teams in LATAM, Europe, North America and APAC started reading and uploading files, collections, and trackers to the Library.
-Stravito has been an important stepping stone to digitalisation that proved a huge value when shifting to remote working globally. It has played a vital role in accelerating awareness and action on consumer behaviour changes amid COVID-19, highlights Mariam Londaridze, Global Consumer Insights & Analytics specialist.
Future-proofing the business for years to come
-It's going to take multiple years to rewire the culture to become fully consumer-centric at Electrolux, but this has been a significant stepping stone to get things moving, says Anne.
Some employees are already dubbing Stravito "The Google of Consumer Insights for Electrolux" with 91% of Library users likely to recommend it to a colleague.
-We're looking forward to bringing knowledge to even more people in the organisation, giving teams around the world the ability to access and understand how they should react to changing attitudes and behaviours, says Anne.
-Through unlocking insights, we'll move closer to consumer centricity. And it's this that will help us continue producing innovative products that we know our customers love for the next 100 years to come.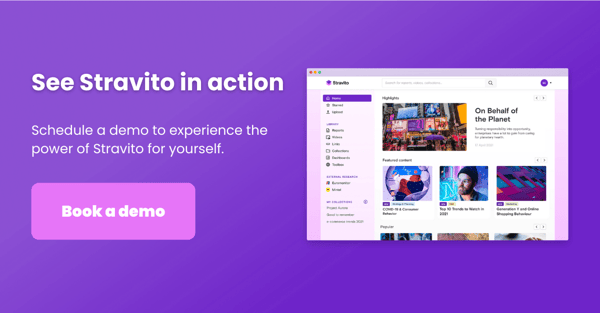 Subscribe to our newsletter