"If someone comes to us for information, we ask them first: "Have you looked at Stravito?"
Remi Scheffer, Head of Marketing and Intelligence at The Dutch Lottery
The Dutch Lottery (Nederlandse Loterij) is the largest gaming organisation in the Netherlands, offering players seven different games of chance. People from all across the country buy these lottery tickets. They're available online, at over 5000 points of sale, or via a subscription.
Naturally, over the years, The Dutch Lottery has collected a wealth of data. Data about players, points of sale, market surveys, consumer surveys. Even competition.
When analysed, this data helps the organisation build campaigns and products that increase the sales of its games. But, until recently, the data was often hard to find. As a result, team members that were supposed to be analysing it were instead acting like librarians trying to find it.
To change this, the Dutch Lottery started using Stravito.
The result? Classified intelligence analysed and actioned to make more informed business decisions.
When it comes to data, take no chances
A dedicated multidisciplinary team creates every campaign and product at the Dutch Lottery. Within each of these teams sits a Business Intelligence Specialist. Their job is to help the teams make more informed decisions based on queries performed on datasets and insights.
Some of these insights live in a data warehouse. Others are stored elsewhere, in Powerpoint documents and PDFs. Previously these PDFs and powerpoints were uploaded into Sharepoint. So much information was there, it became difficult for marketers and salespeople to find research quickly.
In particular, it was the Business Intelligence Specialists that ended up searching for information, instead of analysing it.
As the person responsible for implementing the Dutch Lottery's data-driven strategy, Remi Scheffer wanted to change this. He wanted his Business Intelligence team to spend as much time as possible, putting the market intelligence they found to work. That's when he stumbled upon Stravito.
Find answers in minutes and take action in seconds
"I was immediately positive about Stravito when I heard about it. It was what my BI department needed," says Scheffers.
"Windows Explorer wasn't working very well because of access and rights issues. Sharepoint was a hassle. The proper 'tagging' of reports often took a long time and usually it was done incorrectly or stored in the wrong place.
"What's more, if someone in the company asked if specific research existed and where they could find it, only one or two people could answer.
"Stravito offered a solution to this."
Analyses get uploaded to Stravito. They are automatically classified using machine learning and AI. New materials get uploaded via drag & drop. They immediately get the right tags.
"The solution is increasing the self-learning capacity of our organisation."
Today, 80% of the 110 Dutch Lottery employees in the multidisciplinary teams are using Stravito.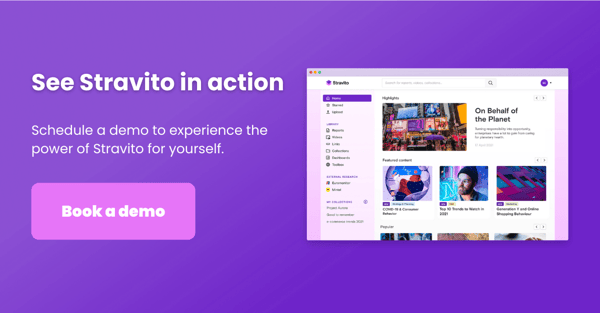 Subscribe to our newsletter